An art series open to 6th-12th graders and a parent or an adult caregiver. These events promote drug free communities in Putnam County. 
3 dates, 4 locations, 6:30pm. See details below. 
To REGISTER or for more information, please email

[email protected]
Parent/guardian must attend with their 6th-12th grader(s)

Seating is limited, your registration holds your spot at that specific event. Please let us know if you are not able to attend so we may open that spot up to others.

For more information please call 845-225-2700 x.117
---
Please register for one of the following events: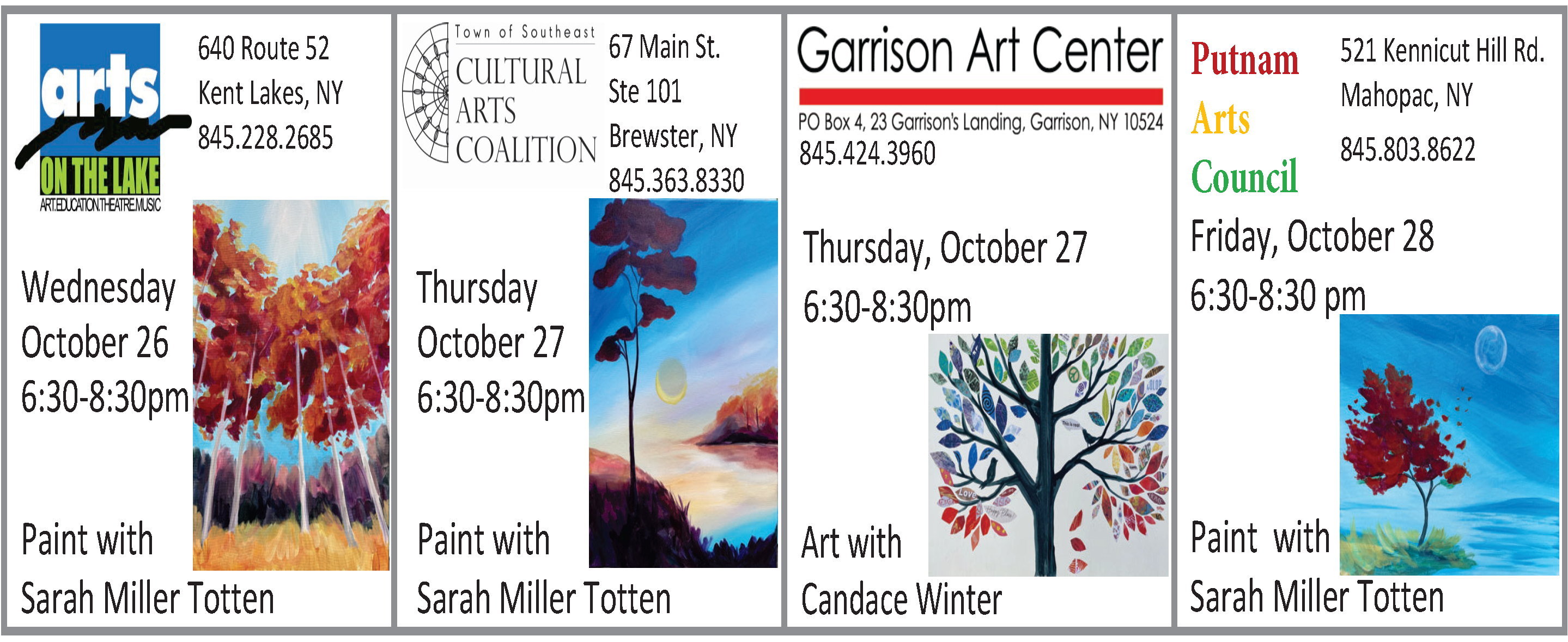 ---
Art with Artist Candace Winter
Thursday, October 27th in Garrison @ Garrison Arts Center, 6:30-8:30pm – 23 Garrison Landing, Garrison NY – 845.424.3960
Class led by Artist Candace Winter
Celebrate life while painting a tree and bird silhouette filled with colorful leaves cut from hand painted and found papers.
On a canvas, you will be guided in how to paint a tree silhouette which will be the foundation of this piece.  You can either paint a single tree, or each participant can paint a half of a tree which when placed together will join to make one.
You will be shown how to paint a bird silhouette on a separate paper. Make one, two or a dozen that can be cut and added to your tree. Next, discover different techniques to create your own art papers with a variety of art materials. You will be shown some unusual ways of making marks and given the freedom to play and explore with paint, markers, pencils, pastels, stamps along with other unconventional tools. When finished you will have a colorful paper "pallet" to cut and make your leaves. Your hand-made leaves can be combined with magazine clippings, discarded books and other found papers where you can cut words or other things that hold meaning or bring joy. Once it is all glued to canvass, you will leave with a beautiful work of art!
The class will run two hours and everything you need will be supplied.
---
Paint with Sarah's Art Studio
Wednesday, October 26th  in Kent @ Arts on the Lake, 6:30-8:30pm –

640 Rt. 52, Kent Lakes NY – 845.228.2685

Thursday, October 27th in Brewster @ Cultural Arts Coalition, 6:30-8:30pm – 67 Main Street, Ste 101, Brewster, NY  – 845.363.8330
Friday, October 28th in Mahopac @ Putnam Art Council, 6:30-8:30pm – 521 Kennicut Rd., Mahopac NY – 845.803.8622
Paint Party with Sarah's Art Studio of Serendipity Arts
Come create your own unique work of art!  In this 2-hour paint party, participants will be guided through a step-by-step process in a stress-free & relaxing environment. Learn how to build a painting while enjoying the process in a creative flow. This will be a wonderful way to celebrate life by connecting and sharing the joy of creating art with others. All supplies will be provided to make a work of art to take home.
About Sarah Miller Totten – Founder of Sarah's Art Studio of Serendipity Arts, Sarah Miller Totten has been working in the arts as an artist, painter, collaborator, coordinator, and teacher for over 15 years. Art has been a conduit her whole life for exploring the world and connecting with others. Sarah loves to offer supportive guidance through art-making for all ages in order to strengthen one's unique persona. Serendipity Arts is committed to celebrating and sharing our love of art through teaching. Our goal is to bring you high-quality art instruction. We help to guide you in reaching your individual goals within a range of styles. We believe that everyone should have the chance to embrace, learn and express their creative side. Serendipity Arts is committed to bringing fantastic artistic and creative events throughout Westchester, Putnam, Fairfield County and the surrounding areas.
https://www.instagram.com/teachartwilltravel/
https://www.facebook.com/sarahsartstudioNY/